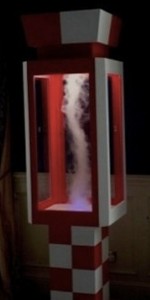 In London findet alljährlich The King's Festival of Food and Ideas statt. Diesmal gab es eine interessante Installation nicht nur zu sehen, sondern auch gleich zum Selbstversuch: Ein Dampfwirbel in einem geschlossenen Glaskörper, der nicht aus Wasser sondern aus Whisky besteht. Mit Hilfe eines Verdampfers und geschicktem Spiel mit Luftdruckunterschieden wird ein windhosenähnlicher Wirbel erzeugt. Das Kunstwerk will den Zusammenhang zeigen, den schottisches Wetter mit seinen Temperaturen, Sonne, Regen und der Luftfeuchtigkeit mit dem Aroma von Whisky hat.
Wie schon angedeutet, ist der Selbstversuch Teil der Installation. Mit Hilfe eines Strohhalmes, der durch spezielle Löcher in das Innere der Kammer gesteckt wird, kann man den Whiskydampf inhalieren. Die unmittelbare Wirkung ist garantiert 😉
Das britische Künstlerduo Bompas & Parr ist der Urheber dieses (praktischen) Kunstwerkes.