Islay (ausgesprochen ei-lah), unserer Meinung nach die wohl schönste Insel der inneren Hebriden, beherbergt nicht nur Kulturdenkmäler und mythische Kultplätze aus allen Epochen, unzählige Schafherden und geschützte Vogelarten, sondern stellt auch die Heimat der etwa dreieinhalbtausend Ilich (=Plural von Ileach, gälische Bezeichnung für die Einwohner Islays) dar, von denen doch einige in den aktuell neun Whiskydestillerien der Insel beschäftigt sind.
Das Islay Whisky Chapter Austria ist ein Club, der es sich auf die Fahnen geheftet hat, durch vielfältige Veranstaltungen schottisch-österreichischen Kulturaustausch zu fördern, Reisen nach Schottland zu organisieren und Wissen über Uisge Beatha (ausgesprochen ischke bha, gälische Bezeichnung für das Wasser des Lebens, also Whisky), bekannt zu machen. Dies erfolgt in Form eines eingetragenen Vereins mit diesen statutarisch verbrieften Zielen:
in angenehmer und gehobener Atmosphäre seinen Mitgliedern und interessierten Freunden den Gedankenaustausch mit Gleichgesinnten zu ermöglichen
durch die Organisation von und der Teilnahme an regionalen und internationalen Veranstaltungen ein Netzwerk aus Freunden der schottischen (keltischen) Kultur zu bilden
und schließlich die Verbreitung von Whisky und schottischem Kulturgut zu fördern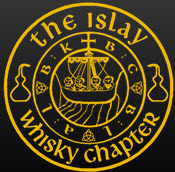 Das Logo beruht auf dem "Great Seal of Islay", dessen Verwendung dem IWCA seit 2010 vom Finlaggan Trust freigestellt ist.
Es zeigt im Zentrum Angus von Islay mit den Söhnen Donalds auf der Überfahrt. In einem zusätzlichen äusseren Ring sind die Anfangsbuchstaben aller Whiskydestillerien Islays sowie ganz aussen zwei PotStills und der Schriftzug The Islay Whisky Chapter hinzugefügt worden.
Das Islay Whisky Chapter Austria besteht als Club nun seit mehr als 15 Jahren und hat in dieser Zeit seine Wurzeln von Wien nach Graz verlegt.
Unser Konzept hat sich bewährt: unsere Veranstaltungen sind prinzipiell immer offen für Gäste, während unsere Mitglieder unterschiedlichste Vorteile genießen:
unser monatlicher Clubabend ist eine fixe Institution immer am 3.Donnerstag im Monat, bei der über Neuigkeiten aus der Whiskywelt informiert wird
wo fast jedes Mal eine neue Abfüllung gemeinsam verkostet und beschrieben wird und potentielle Mitglieder den Club und die Menschen dahinter kennenlernen können
Mehrmals im Jahr werden spezielle Whisky-Events organisiert, wie z.B. Whisky-Dinners, geführte Verkostungen mit Gastpräsentatoren aus Schottland ("Whisky Galore"), oder die Teilnahme an der Grazer Whiskymesse, Whisky, Spirits & More
Members-only Veranstaltungen, die zwar immer von Whisky begleitet werden, aber durchaus auch andere Themen im Vordergrund stehen haben können
mit eigenem Mitgliederbereich auf der Webseite
Das Islay Whisky Chapter Austria ist mehr als ein Whiskyclub !