Solche Nachrichten hört man als passionierter Segler und Whiskyliebhaber gerne:
Old Pulteney sponsert ein Schiff für die Clipper round the World Regatta. Dafür trägt das Schiff den Namen der Destillerie und die Crew bekommt hoffentlich nicht nur den hervorragenden Whisky,  sondern auch die übrigen notwendigen Mittel um so eine Strapaz gut zu überstehen.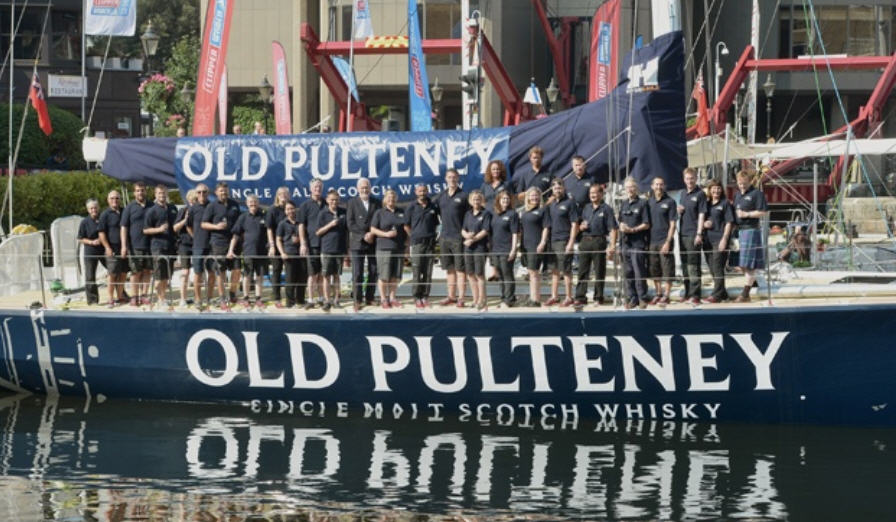 Old Pulteney  in der Nähe von Wick, ganz im Nordosten der schottischen Küste gelegen, nennt ihren Whisky selbst den "maritimen Malt", und es ist nicht nur die Lage an der rauen Nordsee, die dazu inspiriert. Mit dem Maritime Heroes Award hat Old Pulteny eine Auszeichnung geschaffen, die jährlich an die besten Segler verliehen wird. Unter dem Titel  Stories oft the Sea  finden nicht einfach nur Whiskyverkostungen statt, sondern die exzellenten Abfüllungen werden von Erlebnisberichten begleitet, die ihresgleichen suchen. Jasper Shackleton, der von seinem Abenteuer berichtete, die Route des legendären Captain Bligh im offenen Boot über 3600 Meilen nachzusegeln, oder Tom McClean, der schon vor über 40 Jahren (!) den Atlantik alleine in 70 Tagen im Ruderboot überquert hatte, sind nur zwei Beispiele.
Gestern sind sie nun gestartet. Zwölf baugleiche Yachten, mit 23m Länge und einer Verdrängung von 32t haben den Startschuß in den St.Katherine Docks in London bekommen. Von dort geht es jetzt in einem ersten etwa 30tägigem Schlag in den Südatlantik nach Rio de Janeiro und wir wünschen den Seglerinnen und Seglern für die nächsten 11 Monate Mast- und Schotbruch.