Liebe Mitglieder, Freunde und Interessenten des Islay Whisky Chapters Austria
Wir freuen uns, wieder eine Burns-Night ankündigen zu dürfen. Bereits in sechs Wochen  ist es soweit: Am Freitag, 31.1. um 19:30 findet in Graz, im Restaurant am Schlossberg, unser mittlerweile schon traditionelles Festessen statt.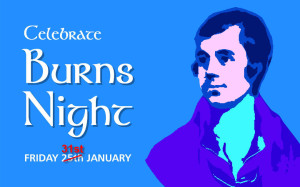 Mit dem Motto "Back to the roots" wollen wir uns heuer auf den eigentlichen Kern einer Burns-Night besinnen und das Essen, die Musik und eine gute Unterhaltung in den Vordergrund stellen. Robert Burns bringt in seinen Gedichten und Liedern zwar oft eine melancholische Note mit, er hat es aber auch geliebt mit seinen Freunden zu feiern und einfach gemeinsam Spaß zu haben.  Genauso wollen wir es dieses Mal auch halten und haben dazu ein passendes Programm zusammengestellt.
19:30 Cocktailempfang im Panoramasaal
20:00 Schottisches Menü  mit 5 ½ Gängen von Starkoch Christof Widakovich – Dazu gibt es eine von speziell darauf abgestimmte Whiskybegleitung
Toasts, toasts toasts   –  Address to a Haggis  –  The immortal memory   –   toasts, toasts, toasts…
23:30 Whisky-Noagerl-Buffet – Zigarren
Die musikalische Begleitung erfolgt durch das Duo ZEITENKLANG, das auf alten keltischen Instrumenten Robert Burns neu interpretiert.
Bitte beachten:
Die Anmeldung (info@islaywhiskychapter.at) wird erst durch die Einzahlung des Unkostenbeitrages von € 65,- pro Person (aktive Mitglieder) bzw. € 69,- pro Person (alle übrigen Teilnehmer) gültig. Für die Teilnahme zählt das Datum der Einzahlung.
Es sind runde Tische für jeweils 8 Personen vorbereitet – Andere Getränke als Whisky sind mit dem Restaurant direkt abzurechnen.
Um dem festlichen Anlass gerecht zu werden bitten wir alle Gäste entweder im Highland-Dress oder mit klassischer Abendgarderobe zu erscheinen.
Die Auffahrt auf den Schlossberg ist problemlos mit der Schloßbergbahn möglich, die letzte Abfahrt erfolgt um 24:00. Danach steht uns ein vorbestelltes Taxi-Shuttle zur Verfügung, das alle 15min zum Karmeliterplatz pendelt.
Für unsere Gäste, die außerhalb von Graz wohnen, haben wir im Hotel Wiesler einige Zimmer zu Sonderkonditionen reserviert – der Preis für das Einzelzimmer beträgt € 60,-  das Doppelzimmer kostet € 70,- pro Nacht.
Wir freuen uns auf einen schönen Abend und sagen schon mal  Slainte !
Der Vorstand