Man kann es für den Partner besorgen, für einen Freund oder Verwandten, oder man kann sich selbst eine Freude machen: die Rede ist vom "Monster of Smoke". Ardbeg hat in einer speziell entworfenen Box gleich 3 unterschiedliche Abfüllungen verpackt. Auf diese Weise lassen sich bequem die wichtigsten Ardbeg-Stilrichtungen kennenlernen – alleine oder in Gesellschaft. Mit jeweils 0.2 l Inhalt, bekommt man aus jeder Flasche vier großzügige (schottische) Drams – oder eben zehn einfache – auf jeden Fall genug für eine Verkostung.
Was genau ist in der Box?
Da ist einmal der Ardbeg Ten, der Signature Whisky der Destillerie. Gereift in Ex-Bourbon Fässern, bringt er alles mit, was Islay und Peated Whisky ausmacht. Mit 46% abgefüllt, wurde er gleich nach seinem neuerlichen Marktauftritt 2008 zum World Whisky of the Year ausgezeichnet.
Dann der Ardbeg Wee Beastie, der mit nur 5 Jahren jung und wild ist. Dieser Whisky reift teilweise in Ex-Bourbon und teilweise in Ex-Sherry (Oloroso) Fässern. Seine 47.4% machen ihn etwas kräftiger und er beweist eindrucksvoll, dass für solche Torfbomben das Alter nicht relevant ist.
Schließlich der Ardbeg An Oa, benannt nach der Klippe im Südwesten Islays, auf der das American Monument steht. Ohne Altersangebe reift dieser Whisky in gleich 3 verschiedenen Fasstypen: ein Teil verbringt die Zeit in einem Ex-Sherry (Pedro Ximenez) Fass, das ihm die Süße verleiht, ein anderer Teil in einem Virgin Oak Fass, dessen frisch ausgekohlte Oberfläche die gewünschte Würze und Komplexität mitbringt und ein letzter Teil in einem klassischen Ex-Bourbon Fass, zuständig für die Vanillenoten und die Intensität des Whiskys. Mit 46.6% bleibt er in der Standard-Gewichtsklasse.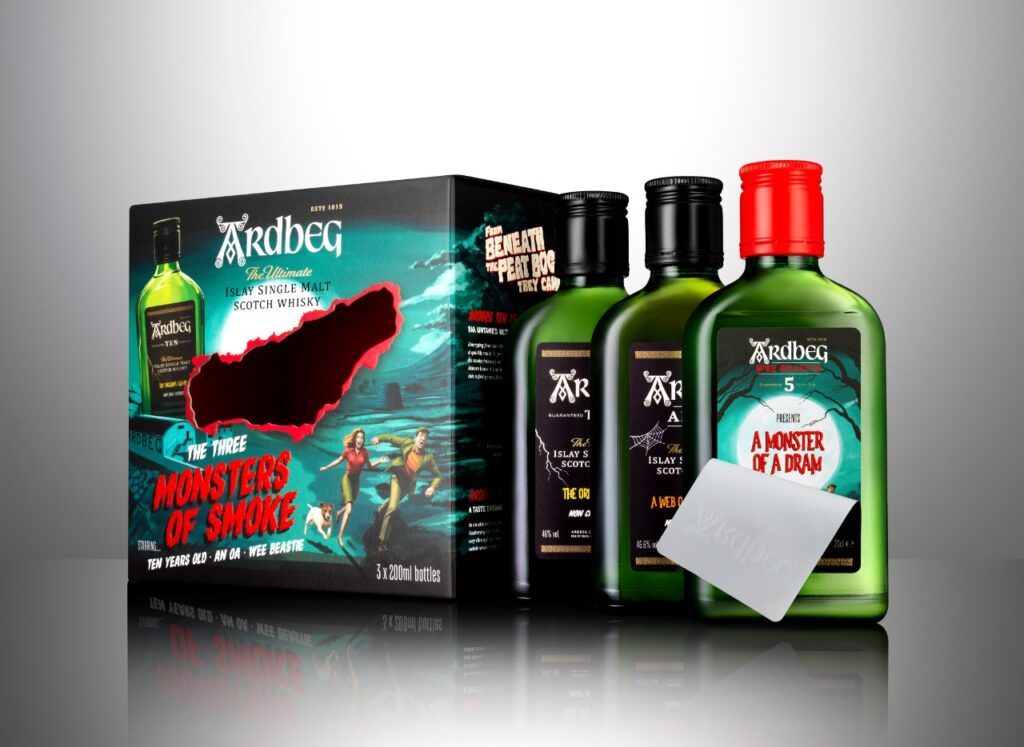 Unter den abziehbaren Etiketten verbirgt sich ein weiteres Design, das die Flaschen auch zu Sammelobjekten machen kann.
Aber das Beste an der ganzen Sache ist die Größe: jede Flasche lässt sich als perfekter Flachmann fast überall hin mitnehmen.
Wo gibt es die Monster of Smoke?
Direkt im Steirerpub – jeden Mittwoch zwischen 17:00 und 20:00 im Takeaway-Shop zum Mitnehmen, oder über den Club, dazu einfach eine Bestellung an info@islaywhiskychapter.at schicken. Der Preis für die Box mit 3x200ml beträgt € 58,-