Die Sommerpause ist vorbei und wir beginnen die Whiskysaison mit einer frohen Botschaft. Wir wussten es ohnehin immer schon, aber jetzt weiß es auch die ganze (Whisky)welt. Das für uns beste Restaurant der Insel, das für uns gemütlichste Islay B&B und seit über 12 Jahren das Basislager jeder unserer Islay-Reisen, das Ballygrant Inn, ist ab sofort ganz offiziell die beste Whisky-Bar in Schottland.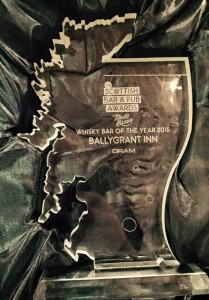 Zum 20.Mal schon veranstaltete das DRAM-Magazine diesen jährlichen Wettbewerb. Gäste und Lieferanten hatten insgesamt mehr als 4000 Nominierungen abgegeben. Die Finalisten wurden dann noch durch offizielle und verdeckte Tester geprüft, bevor das Ergebnis feststand.
Bereits 2011 schaffte es das Ballygrant Inn in den erlesenen Kreis der Finalisten, ein Jahr später reichte es sogar für den 3.Platz. In den letzten beiden Jahren wurde wegen Umbauarbeiten im Lokal auf die Teilnahme verzichtet und heuer wurden die Anstrengungen und der ganze persönliche Aufwand von David Graham und seinem Sohn Ewan richtig belohnt.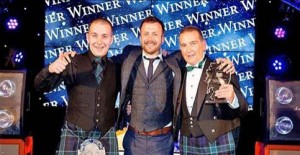 Nachdem sie bereits Ende Juli von ihrer Qualifikation für das Finale erfahren hatten, war es am 11.August dann soweit. Im Kreise von mehr als 500 geladenen Gästen bekamen sie den Preis als "Whisky Bar of the Year 2015" im Hilton Hotel in Glasgow überreicht. Das Ballygrant Inn konnte sich dabei gegen solche Kaliber wie das Curly Coo in Stirling oder die PotStill Bar im Zentrum Glasgows durchsetzen. Die Jury würdigte dabei nicht nur die enorme Auswahl an Abfüllungen im Ballygrant Inn, sondern hob besonders die hohe fachliche Kompetenz und die Leidenschaft hervor, mit der David und Ewan Whisky für Einsteiger und Kenner anbieten.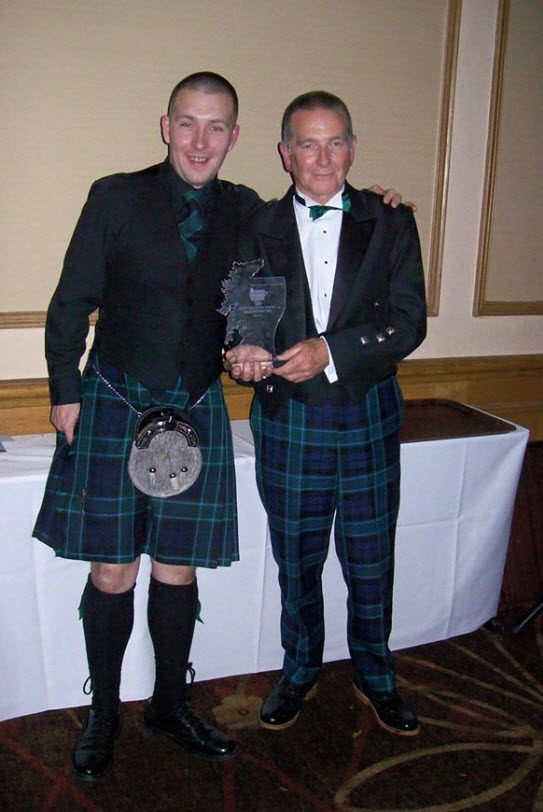 Eine Woche später erschien dann bereits ein Kamerateam von Channel 4 News auf Islay, um sich von der Qualität der Bar direkt vor Ort zu überzeugen…
Apropos Umbau: neue Regale für die vielen Whiskyflaschen müssen natürlich sein und den Toiletten aus der Zeit der Lords of the Isles hat die Rundumerneuerung auch gut getan. Wirklich dankbar aber sind wir dafür, dass das Bild neben dem Eingang zu den Toiletten verschont wurde und bleiben durfte. Wer schon dort war, weiß was wir meinen 😉