Wenn die Scotch Malt Whisky Society eine Verkostung in Graz plant, ist das gut. Wenn diese dann beim IWCA in Rosehill stattfindet, dann ist das besser. Und wenn bei fünf Abfüllungen 2 x Islay und 1x Campbeltown dabei sind und dazu noch eine Neuentdeckung aus Taiwan und eine torfiger Highlander mit knackigen 24 Jahren, dann ist es optimal.
Ein toller Abend mit Jutta und Thomas Unterguggenberger, die uns über viele Neuerungen bei der Society informierten und uns einen Ausblick gaben, was wir in den nächsten Monaten noch erwarten dürfen. Hier die Tasting-Line:
Cask No 66.235 Mild Mannered, Urban And Sophisticated, 24y, 50.3%
Cask No 138.8 Alice Through The Tasting Glass, 6y, 55.8%
Cask No 3.348 Melliflous Quince, 18y, 56.9%
Cask No 10.218 Smoky Seaweed Pearls, 12y, 55%
Cask No 93.188 The Antidote to Boring, 10y, 59.6%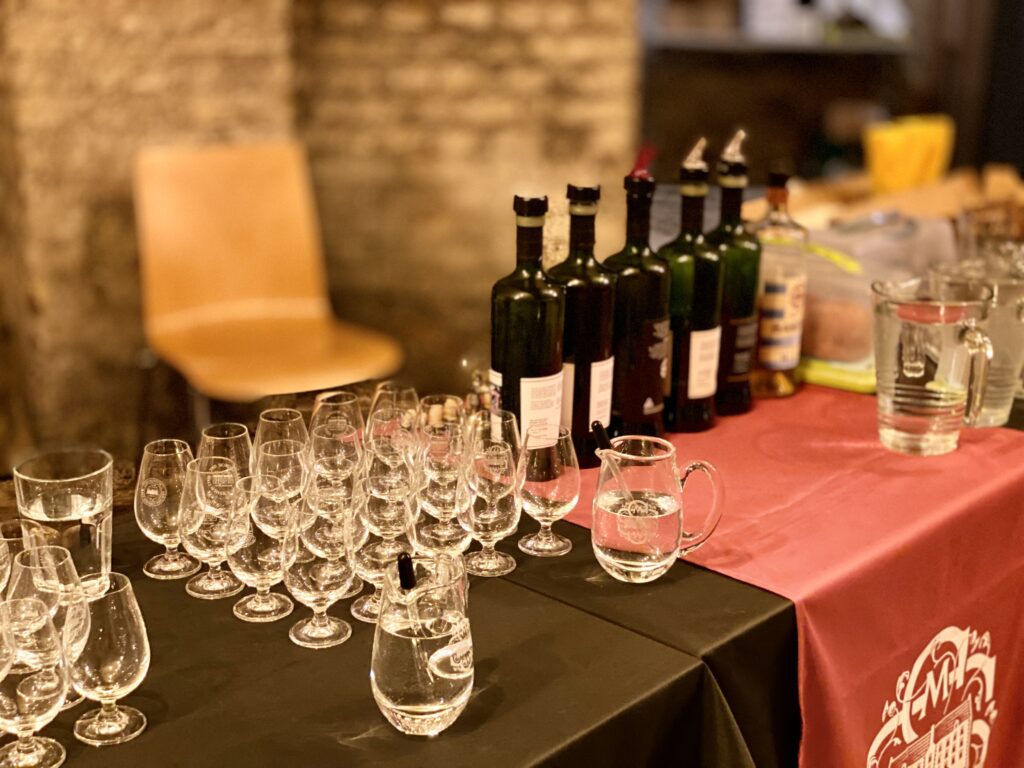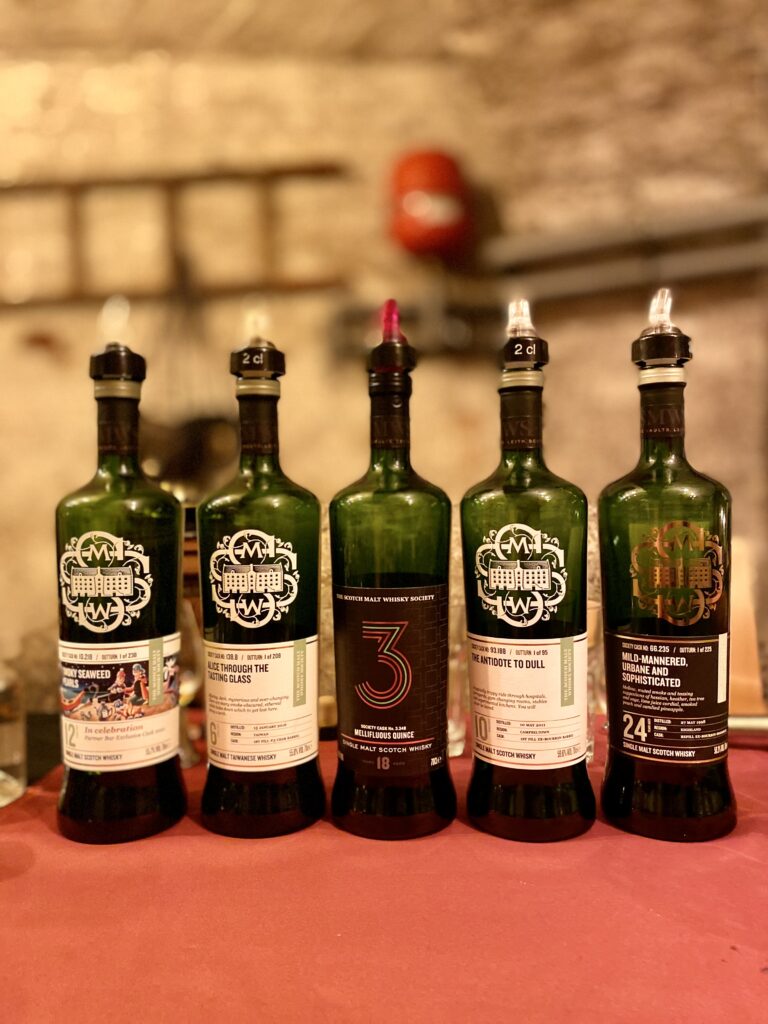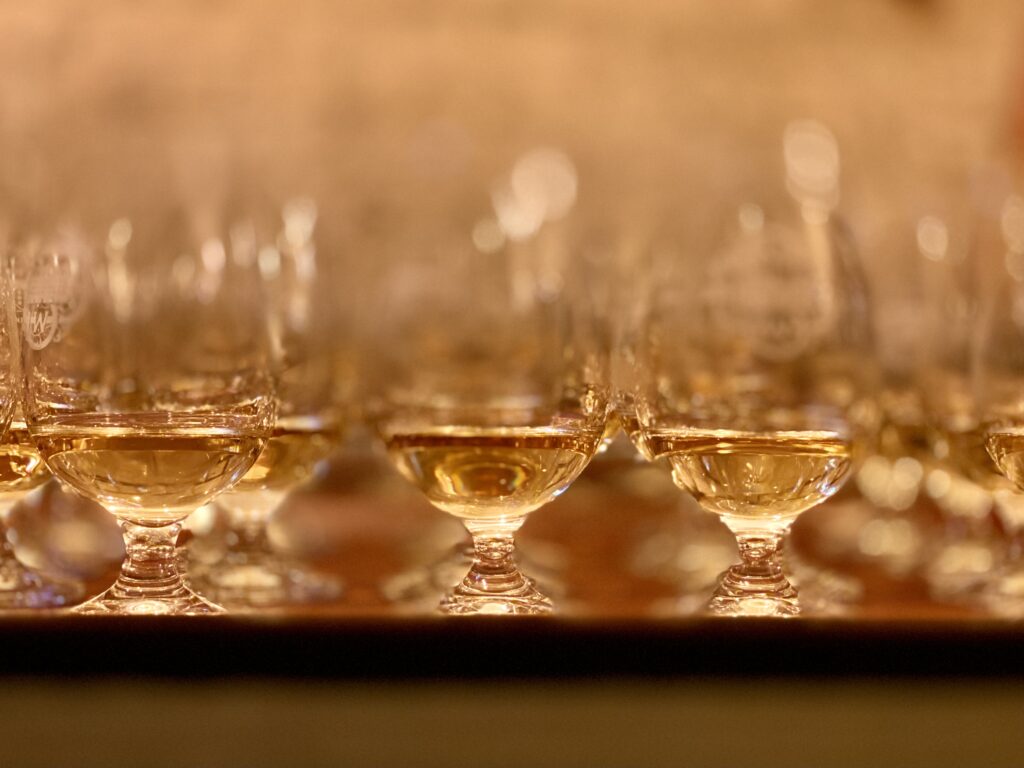 Etwa zwei Wochen nach dieser hochklassigen Verkostung, ist die Society wieder in Graz – dieses Mal mit einer Schnitzeljagd durch die Grazer Innenstadt. Um die Stationen zu finden, bei denen die Whiskys gemeinsam verkostet werden, ist jeweils ein Rätsel zu lösen. Und wie das manchmal so ist, sind die Local Heroes gar keine und die richtigen Hinweise zur Geschichte und Kultur der Stadt kommen meist von einem Wiener…
Die Tour führte entlang beider Murufer durch die Innenstadt, auf den Schloßberg und wieder zurück zum Hauptplatz. Das waren die Abfüllungen, die dabei verkostet wurden:
Cask No 26.216 Madeleine A La Plage, 12y, 58.7%
Cask No 85.83 Hotel Oma, 16y, 57.7%
Cask No 16.90 Tramp's Cigar Butt Burns Toffee Factory, 9y, 63.7%
Cask No 39.266 Blue Kaspberry Candy Laces, 10y, 64.3%
Cask No 68.112 Hipp Hipp hurra! Julen Är Tidig I Är!, 14y, 56.2%
Cask No 41.169 Zuckerwalzer mit Pfefferl, 13y, 58.7%
Ein Sonntagnachmittag, der keine Wünsche offen lässt – Danke an Hanna und Jutta, die diese Entdeckungsreise durch Graz so perfekt organisiert haben!